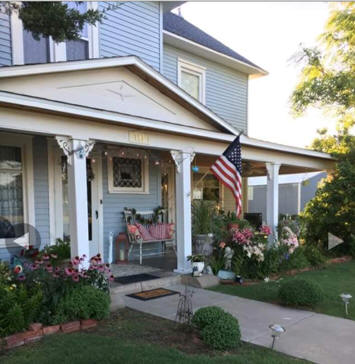 A Relaxing Oasis on the Kansas Prairie
Marla Monahan-Burton graciously welcomes you to her home. Relax and enjoy unsurpassed Southern hospitality on the breathtaking Plains of Kansas.
Meade County's best Bed and Breakfast awaits your arrival. Enjoy our spectacular sunsets over the expanse of the Prairie.
Settle in one of the three lovely and cozy guest rooms.
Morning Delight
After a restful night of sleep, you will awaken to the wonderful aroma of your breakfast being prepared by your hostess, Marla. Selections range from several delicious quiches, frittatas, and French toast like you have never experienced before. Warm from the oven croissants, muffins and scones, along with fresh fruit and juices, round out your breakfast.
Breakfast can be enjoyed in the antique filled dining room, or on the front porch.
Nearby Cities: Meade, Dodge City, Garden City, Liberal.
Host: Marla Burton
Approved by the Kansas Bed and Breakfast Association